With the new DJI Fly update to version 1.11.0, DJI primarily brings support for the DJI Air 3 drone introduced today to the app. More details on the update can be found in the article.
DJI officially presented the Air 3 today and once again delivers the usual high quality. Of course, anyone who orders the drone also wants to be able to control it correctly. DJI also released the appropriate update for the DJI Fly app. Version 1.11.0 of the application primarily brings support for the new drone on board. Beyond that, however, there is little new.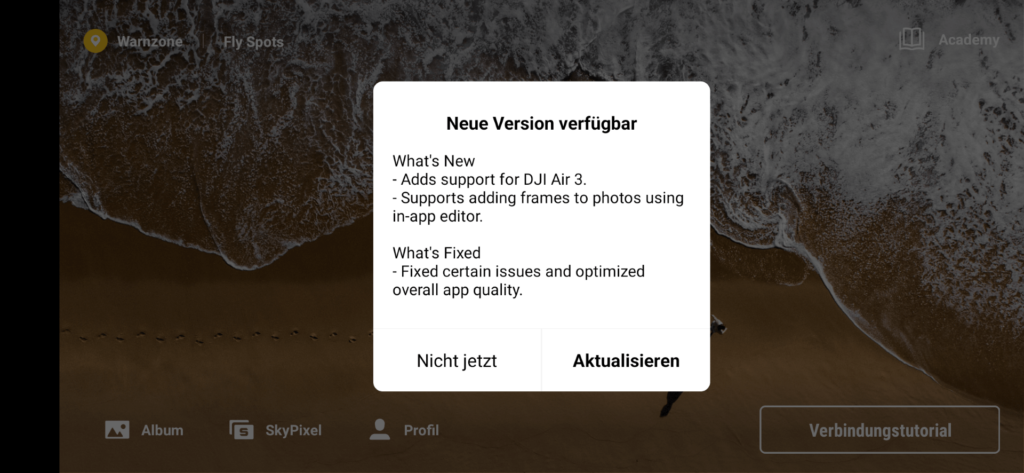 Patchnotes DJI Fly App Update 1.11.0
What's New
Adds support for DJI Air 3.
Supports adding frames to photos using in-app editor.
What's Fixed
Fixed certain issues and optimized overall app quality.
It is not uncommon for further updates to the app to be released in the coming days and weeks. With product releases like the DJI Air 3, functions are often added or bugs are improved. We will of course keep you up to date on this.
Download DJI Fly App 1.11.0
All details and the link to download the DJI Fly app can be found in the linked article.
For iOS, you can download the new DJI Fly app version 1.11.0 as usual directly from the App Store.
For Android, there has been a separate in-app update mechanism since version 1.2.4. After starting the app, it informs you automatically about a new version and can download and install it. Alternatively, you can manually trigger the search for a new version in the DJI Fly app via Profile -> Settings -> Info -> Check for updates.
The DJI Fly app is no longer listed in the Google Play Store since version 1.2.4. Owners of a version older than 1.2.4 must therefore download a current version via the DJI website*. Only then can the Fly app update itself.
If the update causes problems, you can also download and install the latest version directly via the link to the DJI website.
Angebot
DJI Air 3
Für atemberaubende, intensive Aufnahmen – Die dualen Kameras der DJI Air 3 bieten kreative Optionen für Brennweiten. Ideal für die Reisefotografie. Zeige verblüffende Umgebungen und erzähle faszinierende Geschichten durch den Objektiv.
*The links contained in this article are so-called affiliate links. With these links DeinDrohnenpilot.de gets a commission for mediated purchases. The price does not increase for the customer.
Letzte Aktualisierung am 2023-10-01 / Affiliate Links / Bilder von der Amazon Product Advertising API