As expected, DJI unveiled its new FPV drone, the DJI Avata, at the "Born to Fly" event. We provide you with the technical specifications, information about the available versions, as well as the price and availability.
The presentation of the new DJI Avata drone came as little surprise, as almost all details about the drone had already been revealed in advance. However, the official presentation also closes the last gaps regarding the technical data as well as the different versions and the price of the Avata drone. We will briefly summarize the most important data before we look at all aspects in detail.
This is the DJI Avata
The DJI Avata is an indirect successor to the first DJI FPV drone. Indirectly, because the Avata differs significantly from the first drone. Basically, the DJI Avata is designed in the style of a so-called CineWhoop drone. With a weight of 410g and a completely different design (180 × 180 × 80 mm), it is much more compact and is also suitable for indoor flights. Among other things, this is due to the integrated propeller protection, which simplifies indoor flights in which slight collisions with the environment do not immediately lead to a crash. The drone itself also has a robust design, so that crashes do not immediately lead to a defect in the drone.
Zur offiziellen DJI Avata Produktseite*
What the drones have in common, however, is that they are controlled with the help of video goggles and are particularly agile. This guarantees a special flight and recording experience and thus sets them apart from classic drone models such as the DJI Mavic 3 or the DJI Mini 3 Pro.
DJI specifies a maximum flight time of around 18 minutes, which is definitely a very good value for drones of this type. The maximum speed in manual mode is around 94 km/h, which makes the Avata slower than the DJI FPV at its peak.
However, DJI again relies on improvements for the camera. A 1/1.7-inch CMOS sensor is used here, which can record videos with a resolution of up to 4K and 60 FPS. Like the DJI FPV, the DJI Avata also relies on digital image stabilization instead of a 3-axis gimbal. Instead, a vertically swiveling 1-axis gimbal is used. However, this is a common approach for FPV drones.
In terms of visual sensors, the DJI Avata only relies on two downward-facing sensors that can detect obstacles. However, since FPV drones are often flown close to objects, this is not unusual. Other sensors would otherwise trigger constantly and prevent many action-packed flights.
Another nice feature of the drone is the turtle mode. If the drone crashes and lands on its back, it can be brought back to the start position by pressing a button and take off again immediately. This should work without problems in most situations with a flat surface and if the crash did not lead to a defect.
Technical data of the DJI Avata
In the following paragraph, we provide an overview of the most important technical data of the DJI Avata in table form. We will then go into detail about the data and other features such as flight and shooting modes, remote control, app, scope of delivery and price as well as availability of the Avata.
Fluggerät (Modelnummer QF2W4K)
Abfluggewicht
ca. 410g
Max. Flugzeit
ca. 18 Minuten
Max. Fluggeschwindigkeit
97,2 km/h (M-Modus)
Max. Starthöhe
5.000m
Betriebstemperatur
-10° bis +40°C
Kamera
Sensor
1/1,7″ CMOS
Effektive Pixel: 48 MP
Objektiv
Sichtfeld: 155°
Äquivalente Brennweite: 12,7 mm
Brennweite: 2,34 mm
Blende: f/2,8
Fokusmodus: Fixfokus
Fokusbereich: 0,6 m bis ∞
ISO-Bereich
100 bis 6400 (Autom.)
100 bis 25600 (Manuell)
Belichtungszeit
Video: 1/8000 bis 1/50 s
Foto: 1/8000 bis 1/50 s
max. Bildauflösung
4000×3000
Videoauflösung
Mit DJI Goggles 2:
4K mit 50/60 fps
2.7K mit 50/60/100 fps
1080p mit 50/60/100 fps

Mit DJI FPV Goggles V2:
4K mit 50/60 fps
2.7K mit 50/60/100/120 fps
1080p mit 50/60/100/120 fps
Video-Format
MP4
Max. Video-Bitrate
150 MBit/s
Farbprofil
Standard
D-Cinelike
Akku (Intelligent Flight Battery)
Kapazität
2.420 mAh
Spannung
14,76 V
Typ
LiPo 6S
Energie
35,71 Wh bei 0,5C
Ladetemperaturbereich
5 °C bis 40 °C
Zur offiziellen DJI Avata Produktseite*
Camera
As mentioned, DJI uses a 1/1.7-inch CMOS sensor with an effective 48 megapixels for the Avata. This can record photos with a resolution of up to 4000x3000px and videos in up to 4K with 60 FPS. The aperture is fixed at f/2.8 and the field of view is 155°. The maximum video bit rate is 150 MBit/s.
Flight time and speed
Maximum flight time is up to 18 minutes under optimal conditions, and the drone can fly at a maximum of 94 km/h.
Flight altitude and flight distance
The maximum flight altitude is 5,000m while the maximum transmission range is 10km (FCC), 2km (CE), 6km (SRRC).
Flight and recording modes
In terms of flight modes, DJI relies on the same as its ersetn FPV drone. These are divided as follows:
Normal mode (N)
With a maximum speed of 28.8 km/h, the drone responds quite relaxed to the controls here, allowing for relaxed flights.
Sport mode (S)
In S mode, the maximum speed already increases to 50.4 km/h. The assistance systems remain activated and the drone already reacts much more sportily to the drone pilot's inputs.
Manual mode (M)
The M mode is only for experienced FPV pilots. Because the assistance systems are deactivated here, the maximum speed increases to 97 km/h. Control in this mode is only possible with the DJI FPV Remote Control V2, not with the Motion Controller.
The DJI Avata does not feature automatic shooting modes like QuickShots. However, this is not what the drone is designed for.
The DJI Avata only takes photos in JPEG format, while videos are saved in MP4 format and in standard or D-Cinelink color profiles, depending on your preference.
Zur offiziellen DJI Avata Produktseite*
Battery
The Intelligent Flight Battery of the type Li-Ion of the DJI Avata has a capacity of 2,420 mAh, a voltage of 14.76 V, a max. charging voltage of 17 V and a weight of approx. 162g. The charging temperature is between 5 °C and 40 °C.
Internal memory of the DJI Avata
The DJI Avata can fall back on a 20GB internal memory. This can also be expanded by up to 256GB with an SD memory card.
DJI Avata control and video glasses
Together with the DJI Avata, a new version of the DJI Goggles is released. The DJI Goggles 2 is the successor of the DJI Goggles V2 (danger of confusion!). Look for the small but subtle difference with the V in front of the 2). In addition, it is also compatible with the Goggles V2. The DJI Avata is also compatible with the DJI FPV Remote Control 2 and the Motion Controller. Both controllers were already available with the DJI FPV drone. For video transmission, DJI once again relies on its in-house DJI O3+, which is known for its excellent image quality and low latency. All technical data for the new Goggles 2 can be found on the official product page for the DJI Avata*.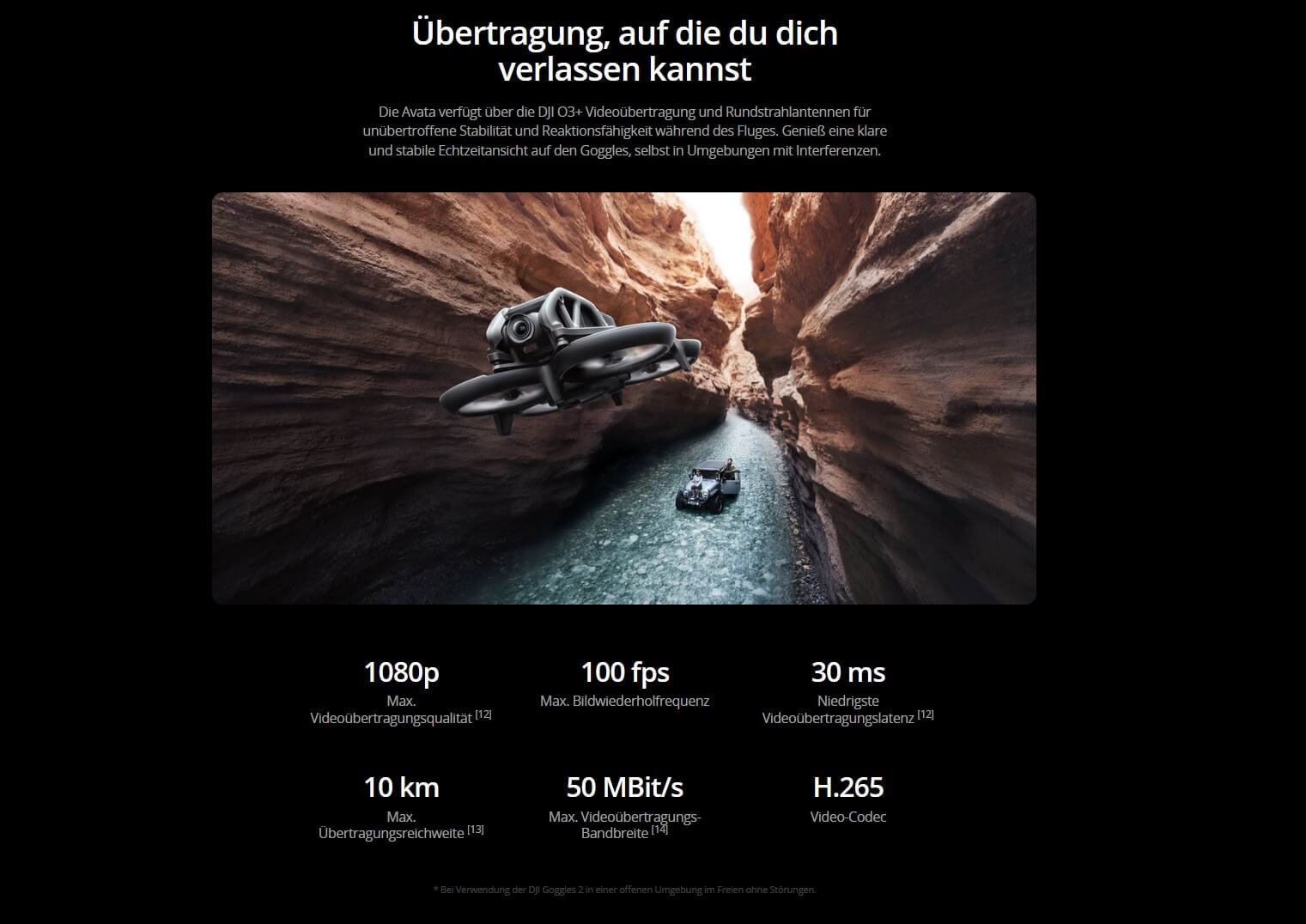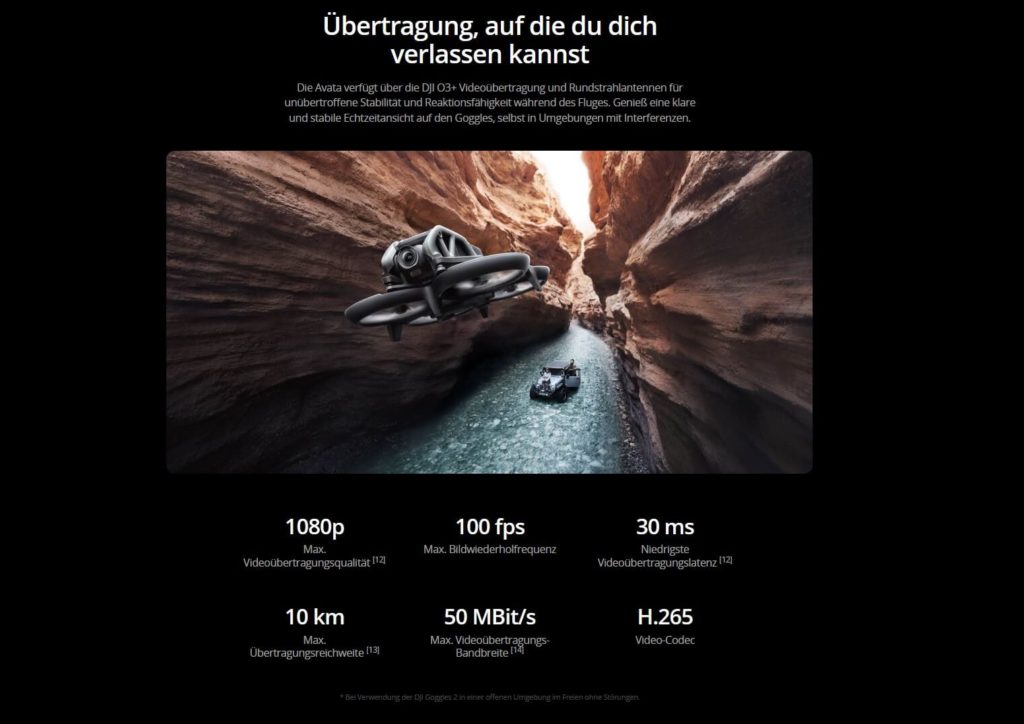 App
The DJI Fly app is also required to control the DJI Avata. This has been the standard app for new DJI drones since the first Mini generation. In order to use the DJI Fly app with the DJI Avata, it must be at least version 1.7.0.
DJI Avata scope of delivery, price and availability
The DJI Avata is available in 3 different versions.
DJI Avata Pro-View Combo – 1429€
DJI Avata Fly Smart Combo – 1149€
DJI Avata (without remote controller) – 579€
| Ausrüstung | DJI Avata Pro-View Combo | DJI Avata Fly Smart Combo | DJI Avata (ohne Fernsteuerung) |
| --- | --- | --- | --- |
| Preis | 1429€ (zum DJI Store*) | 1149€ (zum DJI Store*) | 579€ (zum DJI Store*) |
| Drohne | 1 | 1 | 1 |
| DJI Goggles 2 | 1 | - | - |
| DJI FPV Goggles V2 | - | 1 | - |
| DJI Bewegungssteuereinheit | 1 | 1 | - |
| DJI Avata Intelligent Flight Battery | 1 | 1 | 1 |
| DJI Avata Propeller (Paar) | 3 | 3 | 3 |
| DJI Avata Netzteil | 1 | 1 | 1 |
| DJI Avata Gimbal-Schutz | 1 | 1 | 1 |
| USB-C auf USB-C PD-Kabel | 1 | 1 | 1 |
| Schraubendreher | 1 | 1 | 1 |
| M2×7 Schrauben | 4 | 4 | 4 |
| DJI Goggles 2 Akku | 1 | - | - |
| DJI Goggles 2 Brillenfassungen (Paar) | 1 | - | - |
| DJI Goggles 2 Displayschutz | 1 | - | - |
| DJI Goggles 2 Kopfband | 1 | - | - |
| DJI Goggles 2 Netzkabel | 1 | - | - |
| DJI Goggles 2 Dualband-Antennen (Paar) | 1 | - | - |
| DJI Goggles 2 OTG-Kabel | 1 | - | - |
| DJI FPV Goggles Akku | - | 1 | - |
| DJI FPV Goggles Kopfband | - | 1 | - |
| DJI FPV Goggles Netzkabel (USB-C) | - | 1 | - |
| DJI FPV Goggles Dualband-Antennen | - | 1 | - |
| DJI FPV Goggles USB-C-Kable | - | 1 | - |
| Trageband | 1 | 1 | - |
| DJI FPV Goggles V2 OTG-Kabel | - | 1 | - |
As always, the drone can be purchased directly from the DJI Store* or from third-party retailers such as Amazon. However, the availability of the different versions may vary.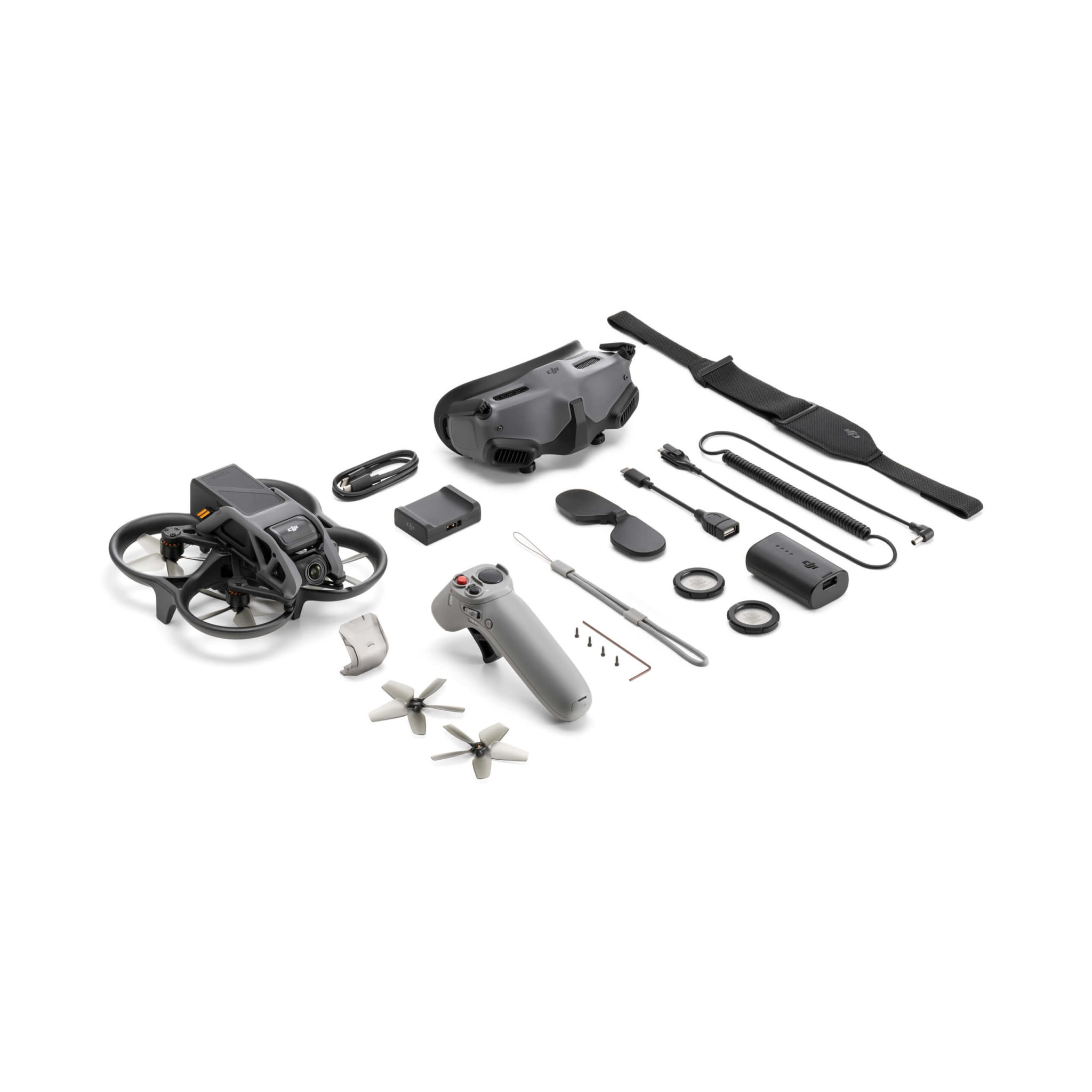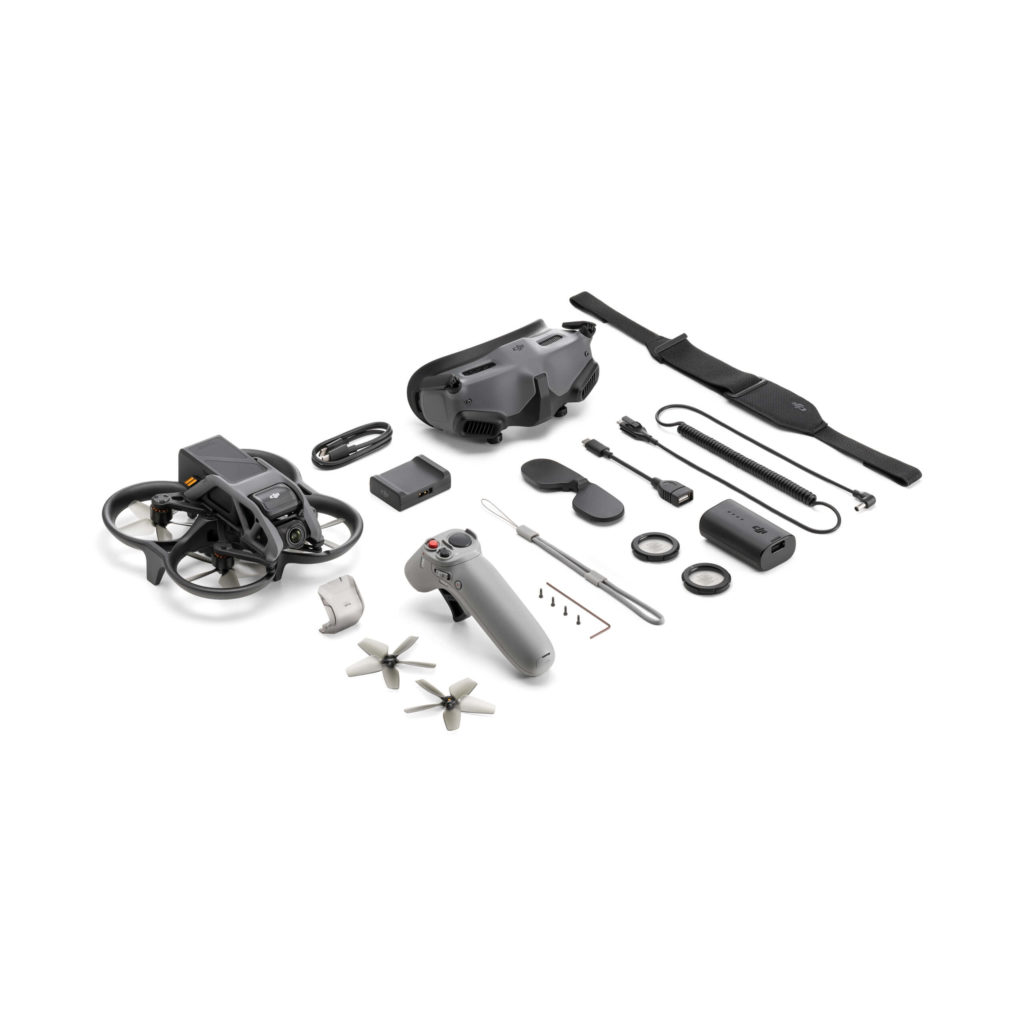 Angebot
DJI Avata Pro-View Combo
Gewicht 410g
4k 60 FPS Videos
18 Minuten Flugzeit
Fluggeschwindigkeit bis zu 97,2 km/h
Wendige kleine FPV Drohne, neue Goggles 2 und vieles mehr!
Summary
With the Avata, DJI is launching a kind of mini version of its FPV drone, which, however, has significant differences, especially visually. But there are also some differences under the hood, which makes the Avata more suitable for indoor flights than its indirect predecessor, for example. Beyond that, the DJI Avata offers the usual advantages and disadvantages of FPV drones. After all, they differ significantly from conventional drone models and have their very own areas of application. You have to be aware of that before you buy.
As a ready-to-build FPV drone, however, the DJI Avata cuts a very fine figure and will give its owner a lot of pleasure, especially when it comes to flying fun and the resulting action-packed recordings. Especially since DJI can again shine with its in-house DJI O3+ for crystal-clear video transmission for control, especially in the video transmission technology. However, you also have to dig deep into your pocket for this. However, if you want a ready-to-fly FPV model and are not interested in building one yourself, the DJI Avata will be a good choice.
*The links contained in this article are so-called affiliate links. With these links DeinDrohnenpilot.de gets a commission for mediated purchases. The price does not increase for the customer.
Letzte Aktualisierung am 2023-12-01 / Affiliate Links / Bilder von der Amazon Product Advertising API