A new DJI Fly app update to version 1.12.0 is now available for download. The new version is mainly for compatibility with the new Mini 4 Pro drone. We summarize all changes.
To the release of the new DJI Mini 4 Pro, there is also a new update of the DJI Fly app. With version 1.12.0, DJI makes the app compatible with the new drone and adds the ActiveTrack 360° function, which was newly introduced with the Mini 4 Pro. In addition, as always, there are the obligatory bug fixes, which are not named in detail.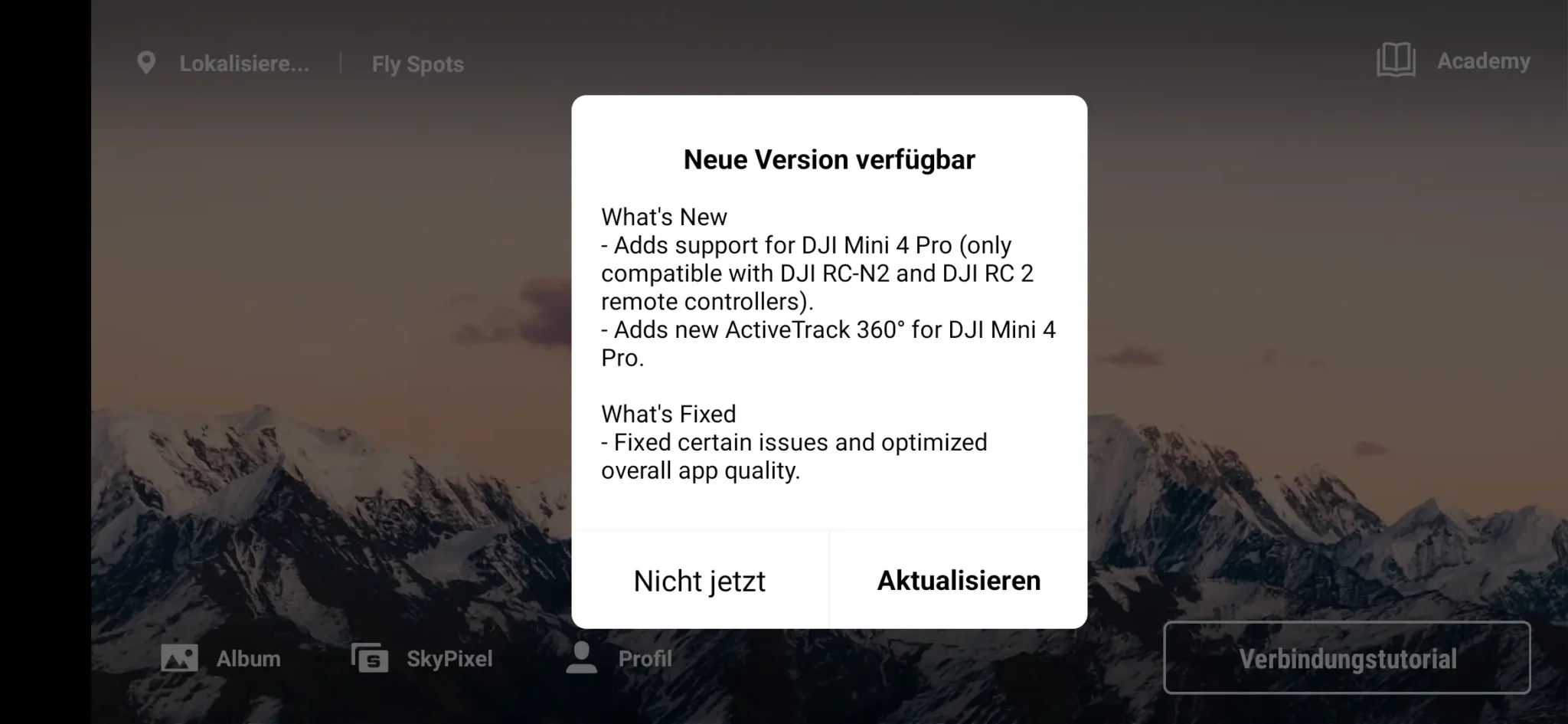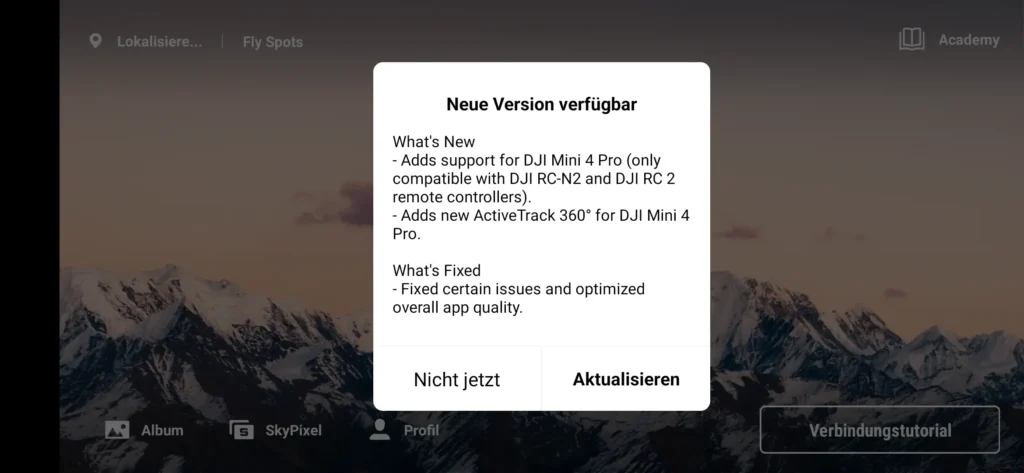 Patchnotes DJI Fly App Update 1.12.0
What's New
Adds support for DJI Mini 4 Pro (only compatible with DJI RC-N2 and DJI RC 2 remote controllers).
Adds new ActiveTrack 360° for DJI Mini 4 Pro.
What's Fixed
Fixed certain issues and optimized overall app quality.
Download DJI Fly App 1.12.0
All details and the link to download the DJI Fly app can be found in the linked article.
For iOS, you can download the new DJI Fly app version 1.12.0 as usual directly from the App Store.
For Android, there has been a separate in-app update mechanism since version 1.2.4. After starting the app, it informs you automatically about a new version and can download and install it. Alternatively, you can manually trigger the search for a new version in the DJI Fly app via Profile -> Settings -> Info -> Check for updates.
The DJI Fly app is no longer listed in the Google Play Store since version 1.2.4. Owners of a version older than 1.2.4 must therefore download a current version via the DJI website*. Only then can the Fly app update itself.
If the update causes problems, you can also download and install the latest version directly via the link to the DJI website.
DJI Mini 4 Pro Fly More Combo
Unter 249 g, kein Drohnenführerschein erforderlich[1] – Leicht, konform mit den C0-Vorschriften, in den meisten Ländern ist keine Drohnenführerschein erforderlich! Genieße den Spaß am Fliegen ohne mühsames Antragsverfahren und Wartezeit.
Entfessle vertikale Videos in 4K/60 fps HDR – Präsentiere Sonnenaufgänge, Sonnenuntergänge und Nachtaufnahmen mit beeindruckender Klarheit. Teile Videos sofort ohne Nachschneiden. Genieße hochwertiges Filmmaterial direkt aus der Kamera!
Letzte Aktualisierung am 2023-12-01 / Affiliate Links / Bilder von der Amazon Product Advertising API