DJI has officially unveiled the Mavic 3 Classic, as expected. It offers only one camera instead of 2, but is much cheaper and gets the C1 drone class. We summarize.
With the Mavic 3 Classic, DJI officially unveiled another model from the popular drone series on November 2. The release was preceded by numerous leaks, which is why most of the data was already known. The only changes are the camera, the price and the drone class (C1 label).
We summarize again what you should know about the new DJI Mavic 3 Classic.
Mavic 3 Classic technically the same – except for the camera
Apart from the camera, the DJI Mavic 3 is technically identical to the Mavic 3 Standard. The difference with the camera: while the standard version includes two systems, a wide-angle and a telephoto camera, the Classic only has a wide-angle module. However, like the rest of the drone, it is identical to the previous model.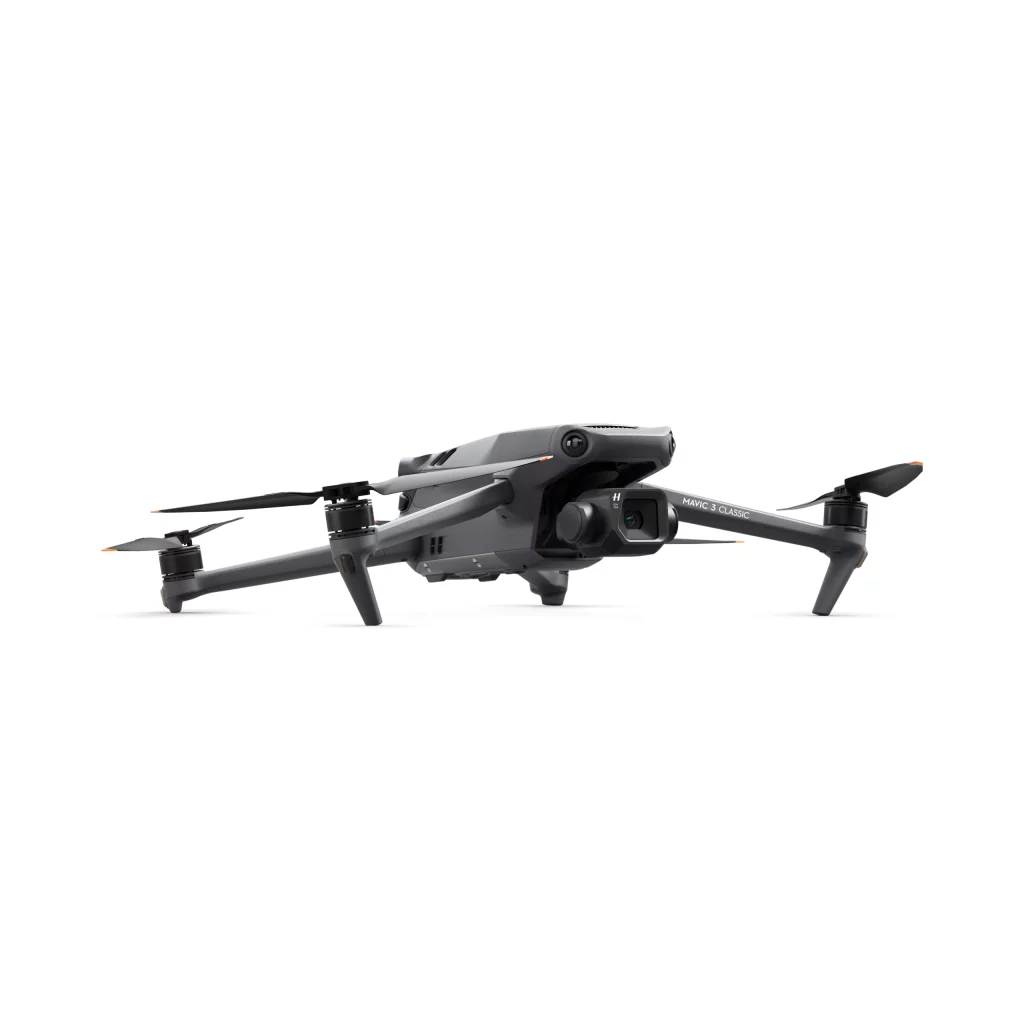 The Mavic 3 Classic delivers the following technical data:
Fluggerät
DJI Mavic 3 Classic
Abfluggewicht
ca. 895g
Maße (ohne Propeller)
Gefaltet:
221 × 96,3 × 90,3 mm (Länge × Breite × Höhe)
Ausgefaltet:
347,5 × 283 × 107,7 mm (Länge × Breite × Höhe)
Max. Flugzeit
ca. 46 Minuten (Windstelle)
max. Flughöhe
6.000 m
max. Fluggeschwindigkeit
ca. 75,6 km/h (im S-Modus)
Betriebstemperatur
-10° - 40°C
interner Speicher
8GB
Betriebsfrequenz
2,400 – 2,4835 GHz
5,725 – 5,850 GHz
Sendeleistung (EIRP)
2,400 – 2,4835 GHz:
FCC: ≤26 dBm
CE: ≤20 dBm
SRRC: ≤20 dBm
MIC: ≤20 dBm

5,725 – 5,850 GHz:
FCC: ≤26 dBm
CE: ≤14 dBm
SRRC: ≤26 dBm
Videoübertragungssystem
OcuSync3+ (O3+)
Kamera (Hasselblad)
Sensor
4/3'' CMOS
Effektive Pixel: 20 Megapixel
Objektiv
Sichtfeld (FOV): 84°
Format Äquivalent: 24 mm
Blende: f/2,8 - f/11
Fokusbereich: 1 m bis ∞ (mit Autofokus)
ISO-Bereich
Video:
100 – 6400

Foto:
100 – 6400
max. Bildauflösung
5280 × 3956 px
Videoauflösung
H.264/H.265
5K: 5120x700©24l25/30/48/50p
DCI 4K:
4096x21 60@24/25/30/48/50/60/
120 FPS 4K:
3840x21 60@24/25/30/48/50/60/
120 FPS FHD:
1 920x1 080p@24/25/30/48/50/60
/120/200 FPS
Video-Format
H.264/H.265 Bitrate: H.264 Max 200 MB/s, H.265 Max 140 MB/s
Alle technischen Daten der Mavic 3 gibt es auf der offiziellen DJI Seite
DJI Mavic 3 Classic technische Daten*
Further technical details can be found on the official product page*. So, if you're about to choose a Mavic 3, you only have to decide if a tele system is necessary or not.
Mavic 3 Classic launches with C1 label
Unlike the previous Mavic 3 models, the Mavic 3 Classic comes directly at launch with a certified drone class according to the EU Drone Regulation. Namely, directly with the C1 label, which means that the Mavic 3 has significant achievements in drone flights than previous stock drones.
Prices of the Mavic 3 Classic
The deletion of the additional telephoto camera brings significant relief for the wallet. The Mavic 3 Classic is available for as little as €1,499. The following variants are available:
1.499€ without remote control
1.599 with DJI RC-N1 remote control
1.749€ with DJI RC remote control
The smallest version of the drone is thus around 430€ cheaper than the smallest Mavic 3 Standard (but with RC-N1 remote control). So if you already have a remote control and buy a Mavic 3 Classic, you can save a lot compared to the standard model. However, as mentioned, you will have to do without the telephoto camera.
Furthermore, there are of course accessories in the form of spare batteries, propellers, memory cards, etc.. This is compatible with all Mavic 3 models.
*The links contained in this article are so-called affiliate links. With these links DeinDrohnenpilot.de gets a commission for mediated purchases. The price does not increase for the customer.