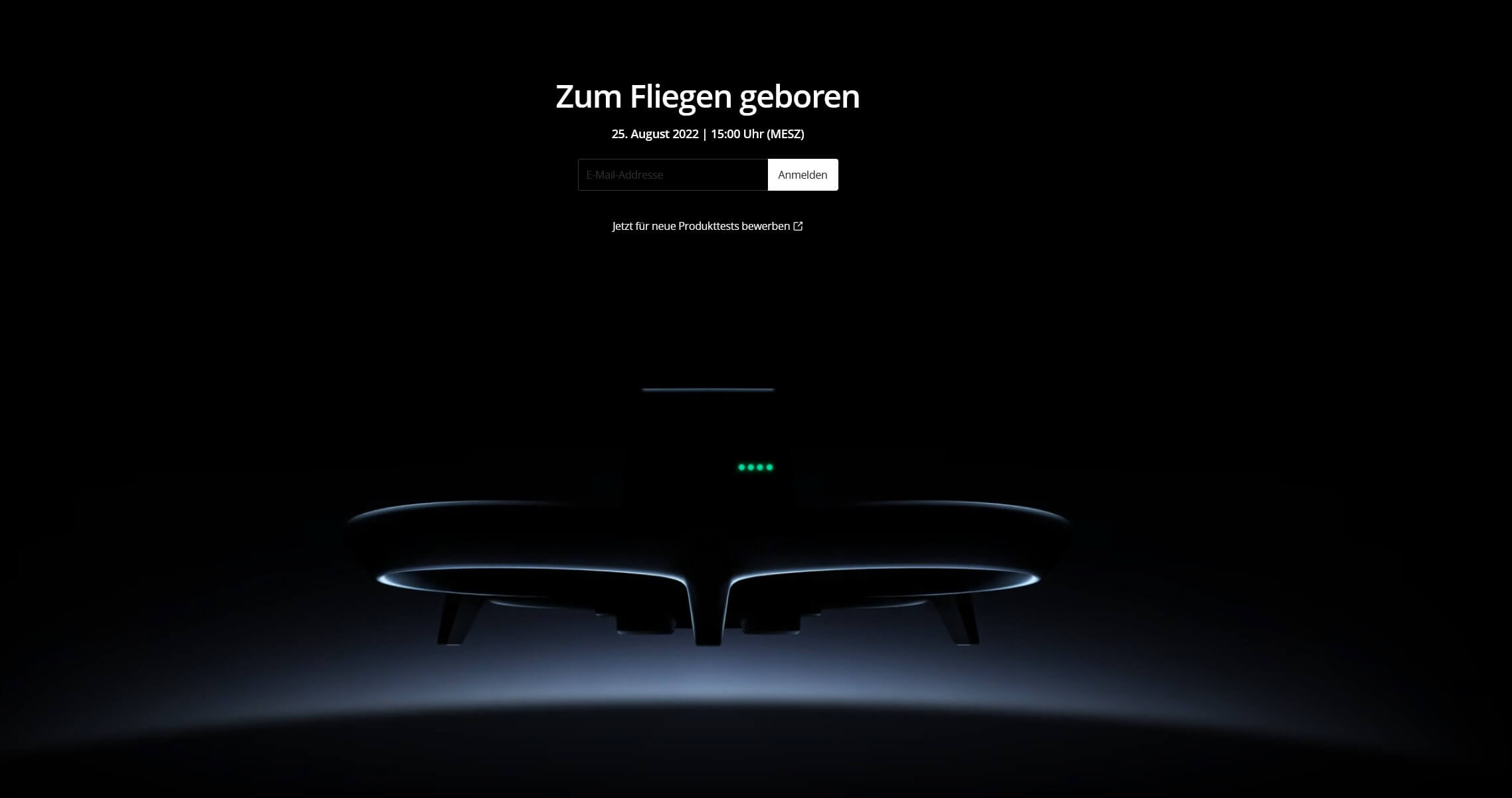 DJI announces Avata drone – teaser page launched
With the now launched teaser website, DJI virtually announces the already much discussed DJI Avata drone, even if it is not mentioned by name.
DJI is also taking the familiar pre-release route with the DJI Avata. All previous rumors and leaks have not been commented on, and now they are launching a teaser website to get you in the mood for the new product without showing it in full or mentioning it by name – although everyone already knows what it is. The motto of the site is "Born to fly".
Teaser website announces DJI Avata
On the teaser website that has now been launched, the outline of the DJI Avata drone is quite clear to anyone who has been following the previous rumors about the drone. The announcement is dated for August 25 at 3:00 pm (CET). On that day, DJI will then release all the details of the drone and launch the official product page. From then on, the drone should also be available for pre-order.
Apart from the date, the time and the short animated graphic, the teaser page only offers a newsletter form to get informed. There won't be anything more to hear or read from the official side until the mentioned date. However, we can expect more details about the drone from unofficial sources in the course of the next week.
Details about the DJI Avata
What do we know about the DJI Avata so far? It will be another FPV drone that is designed in the style of a CineWhoop drone. It will therefore be designed for indoor use, is smaller than the previous DJI FPV drone and will probably be a bit cheaper. It will also come with a new video goggle, the DJI Goggles 2 (not to be confused with its predecessor, the DJI Goggles V2). More information about the technical specifications can be found in the article DJI Avata – prices, technical data, scope of delivery leaked.
Angebot
DJI FPV Combo
Beeindruckendes Flugerlebnis
4K-Videoauflösung
20 Minuten Flugzeit
Sofort lieferbar
kostenloser Versand
*The links contained in this article are so-called affiliate links. With these links DeinDrohnenpilot.de gets a commission for mediated purchases. The price does not increase for the customer.
Letzte Aktualisierung am 2022-10-07 / Affiliate Links / Bilder von der Amazon Product Advertising API
Kategorien: News