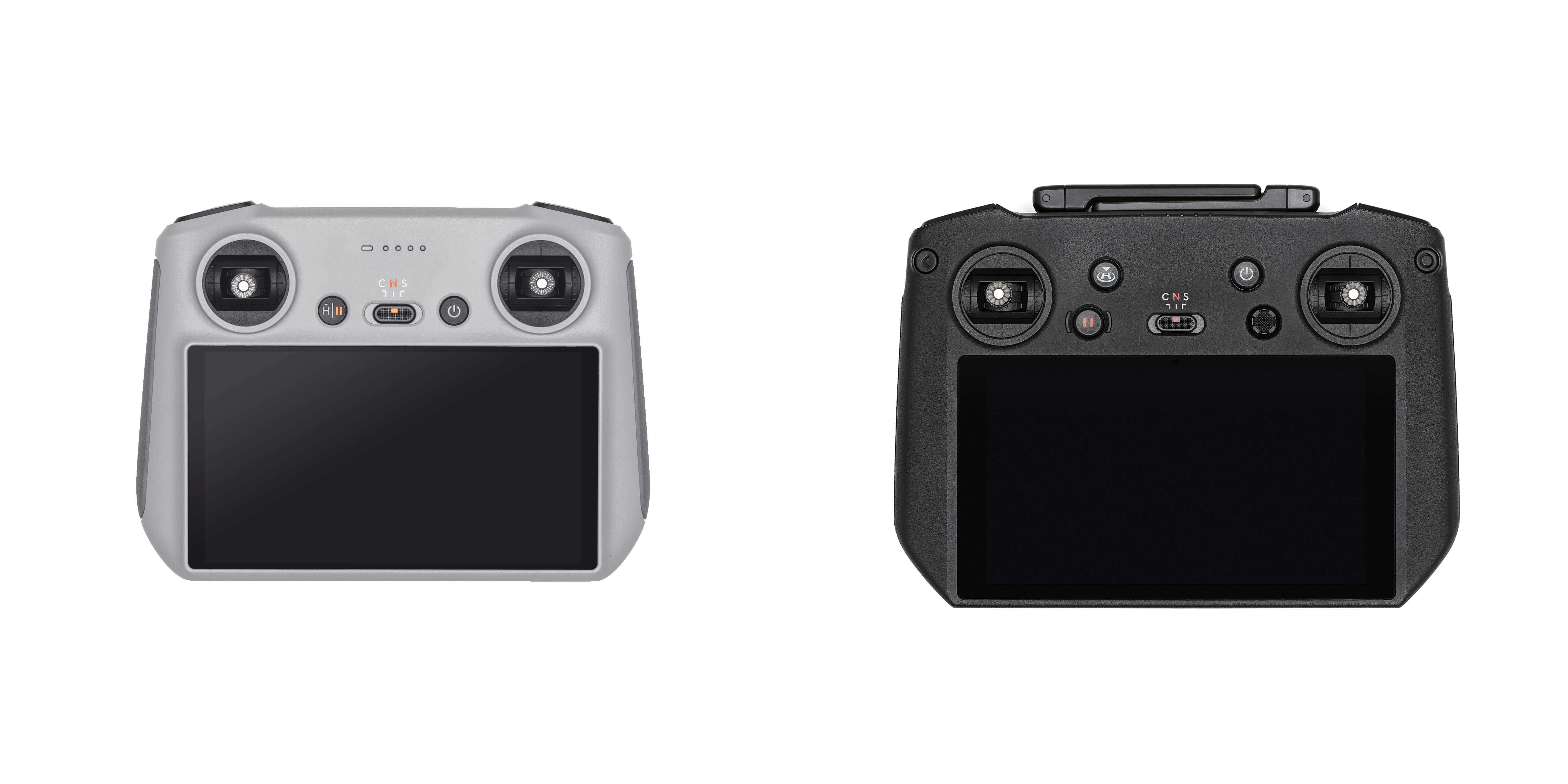 Differences in DJI RC and DJI RC Pro remote control
What are the differences between the DJI RC and DJI RC Pro remote controllers? We provide an overview of the similarities and differences between the two controllers.
With the DJI RC, the Chinese drone manufacturer has launched a new drone remote control with integrated display this year. It was presented at the product launch of the DJI Mini 3 Pro*.
Due to the similarity to the already available DJI RC Pro, but a much lower price, the question quickly arose: What are the differences between DJI RC and DJI RC Pro? We would like to bring these closer to you in the following paragraphs and thus bring light into the darkness.
DJI RC vs DJI RC Pro – Differences
The following table provides an overview of the technical data of both remote controls and thus already suggests some differences.
DJI RC
(RM 330)
DJI RC Pro
(RM510)
Price
299,00 EUR zum Angebot
989,00 EUR zum Angebot
Compatible with
DJI Mavic 3, DJI Mavic 3 Cine, DJI Mini 3 Pro
DJI Mavic 3, DJI Mavic 3 Cine, DJI Air 2S
Weight
390g
680g
Video transmission system
O3/O3+
O3+
Max. Transmission range
DJI Mini 3 Pro: 12 km (FCC); 8 km (CE/SRRC/MIC)
DJI Mavic 3: 15 km (FCC); 8 km (CE/SRRC/MIC)
DJI Mavic 3 Cine: 15 km (FCC); 8 km (CE/SRRC/MIC)
15 km (FCC)
8 km (CE/SRRC/MIC)
Antennas
2 antennas, 1 receiver, 2 antennas
4 antennas, 2 transmitters, 4 receivers
Wi-Fi
Protocol
802.11 a/b/g/n
802.11a/b/g/n/ac/ax; unterstützt 2×2 MIMO Wi-Fi
Bluetooth
Protocol
Bluetooth 4.2
Bluetooth 5.1
Display
Resolution
1920×1080
1920×1080
Dimensions
5,5 Zoll
5,5 Zoll
Frame rate
60 fps
60 fps
Brightness
700 Nits
1.000 Nits
Touch screen control
10 points multi touch
10 points multi touch
General
Battery
Li-Ion (5,200 mAh bei 3,6 V)
Li-Ion (5.000 mAh bei 7,2 V)
Loading type
It is recommended to use a charger with at least 5 V / 2 A.
Recommended for charging with 12V or 15V USB charger
Nominal power
4,5 W
12 W
Storage capacity
Erweiterbar (mit microSD-Karte)
32 GB interner Speicher + erweiterbarer Speicher über microSD-Karte
Battery life
4 Stunden
3 Stunden
Video output
-
Mini-HDMI Anschluss
Operating temperature
-10 °C bis 40 °C
0 °C bis 40 °C
GNSS
GPS + Galileo + BeiDou
GPS + Galileo + GLONASS
The most important common feature of both remote controls is immediately apparent: the integrated display. This is probably the biggest advantage over the classic drone remote controls, such as the DJI RC-N1 (known from the DJI Air 2S or the DJI Mini 2 (test)). Because of the integrated display and the DJI app running on it, a separate smartphone is no longer necessary to control the supported drones. Very convenient.
Both displays are 5.5 inches, resolve with 1920 x 1080 pixels, but have different brightness values. The DJI RC reaches 700 nits, while the DJI RC Pro reaches 1,000 nits.
The DJI RC Pro is ahead in terms of the number of antennas, the technologies used for Wi-Fi and Bluetooth, and the internal memory. Another important point is that third-party apps can only be installed on the DJI RC Pro. While the DJI RC also runs on an Android operating system, it is officially limited to using the DJI Fly app only.
However, the DJI RC scores over the DJI RC Pro in terms of weight and battery life. At 390g, it weighs significantly less than the DJI RC Pro with its 680g and has a maximum runtime of 4 hours, compared to 3 hours (RC Pro).
The biggest difference is the price. While the DJI RC is already available for 299€, you have to pay 999€ for the DJI RC Pro – a whopping 700€ difference.
Summary
The differences between the DJI RC and the DJI RC Pro are sometimes greater or sometimes smaller, depending on the application. With the integrated display, however, both remote controls have the essential advantage in this type of controller over the standard models. This provides a great gain in comfort.
For whom which remote control is suitable is primarily dependent on the supported drone models. But of course it also depends on the budget, since the price difference between the two models is enormous. However, with our direct comparison of the technical data, you can quickly get an overview and decide for one model if your own drone is supported by both.
*The links contained in this article are so-called affiliate links. With these links DeinDrohnenpilot.de gets a commission for mediated purchases. The price does not increase for the customer.
Kategorien: Drone Know How